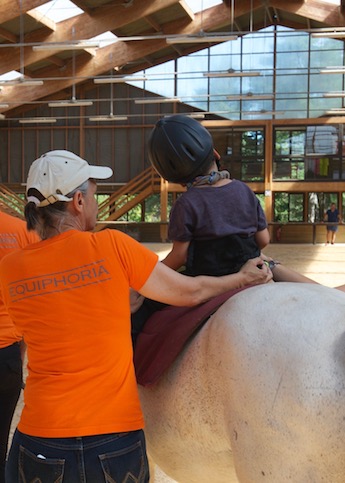 Your personalized therapy
Equiphoria closely monitors quality standards and internally uses the following terms for its programs: Hippotherapy and Equine Facilitated Psychotherapy (EFP) according to Anglo-Saxon terminology.
Beyond these terms, what matters is the treatment protocol and its theoretical and practical bases as well as the rigor of the therapeutic approach and the safety of the device for the beneficiary.
In the international scientific literature available to date, hippotherapy is defined as a therapeutic tool using the movement of the horse to improve functional results, thus integrating physiotherapists, occupational therapists and speech therapists. On the other hand, "Equine Facilitated Psychotherapy" (EFP) is defined as an interactive process in which a licensed mental health professional uses the horse and the specialized structure around it (duly accredited equine professionals) to achieve predefined psychotherapy goals.
In France, the term "Equitherapy" is used quite broadly to describe these two types of interventions, also going in current practice to cover the appropriate equestrian activity. The definitions are moreover quite ambiguous: "Equitherapy, therapy with the horse are psycho-body care activities practiced by professionals in the medico-social sector (psychologists, psychomotor therapists, psychotherapists …)" or "Equitherapy is a psychic treatment mediated by the horse and dispensed to a person in his psychic and bodily dimensions ".
At Equiphoria, we apply the international definition of hippotherapy in the broad sense as an emerging alternative therapeutic approach specialized for neurological rehabilitation, associating a team of health professionals (doctors, physiotherapists, occupational therapists, psychomotor therapists, speech therapists, psychologists , etc.), a horse and its specialized environment (equine specialists). The horse's movement, presence and feedback are used as support by the therapy team.
As a patient or prescriber, it is essential to be well informed about:
• the safety and reception arrangements for people with disabilities which remain an essential prerequisite regardless of the practice provided around the horse.
• the specific precautions and contraindications to the practice of the horse imposed by the type of health disorder
Do not hesitate to contact us for more information.